Pearle is a opticien here in The Netherlands and they always send a birthday card to their customers. Hartelijk Gefeliciteerd means Happy Birthday in Dutch

This time though, we got a birthday card with a cake recipe which is healthy and good for your eyes! Pearle sent their birthday wishes to my mom and she ofcourse asked me to make the cake. Which I did and boy o boy it really taste good! Love the carrot, walnuts and raisins together. Also I did not know you could make frosting with cream cheese! This is definitely a keeper. Just take a look inside the cake:

Isn't this 2 die for?!
The recipe is in Dutch so I translated the recipe in English. The only side note I have with this recipe is to reduce the sugar, it is way too much. Especially considering the 200 grams of raisins which are very sweet on their own.
Carrot Cake with cream cheese frosting

Print recipe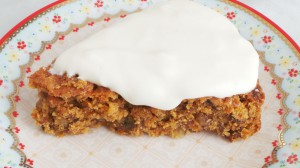 This carrot cake is so delicious. The walnuts have a really nice touch to it.
Ingredients
200g grated carrots
150g unsalted butter
175g white sugar (this was a bit too much for my taste. I would reduce the amount.)
200g self raising flour
Sniff ofsalt
1/2 teaspoon cinnamon
2 eggs
100g chopped walnuts
200g white raisins (I used black sultana raisins)
200g cream cheese
75g powdered sugar
2 teaspoons lemon juice
Directions
| | |
| --- | --- |
| Step 1 | Heat oven to 180 celsius |
| Step 2 | Grease baking pan |
| Step 3 | Add the melted butter, grated carrot, eggs, sugar, cinnamon, chopped walnuts and raisins together. |
| Step 4 | Siff the self raising flour through the carrot mixture. |
| Step 5 | Put the carrot mixture into the baking pan and bake for 45 min till its brown. |
| Step 6 | For the frosting: mix the creamcheese, powdered sugar and lemon juice with a kitchenmachine. Till it's nice and fluffy. |