Eindelijk heb ik een Sigg fles!!!! De keuze was zo moeilijk om te maken omdat er zoveel leuke flessen zijn met zoveel verschillende designs. De fles is licht in gewicht en maakt het drinken van water 10 keer leuker dan het drinken uit een plastic fles.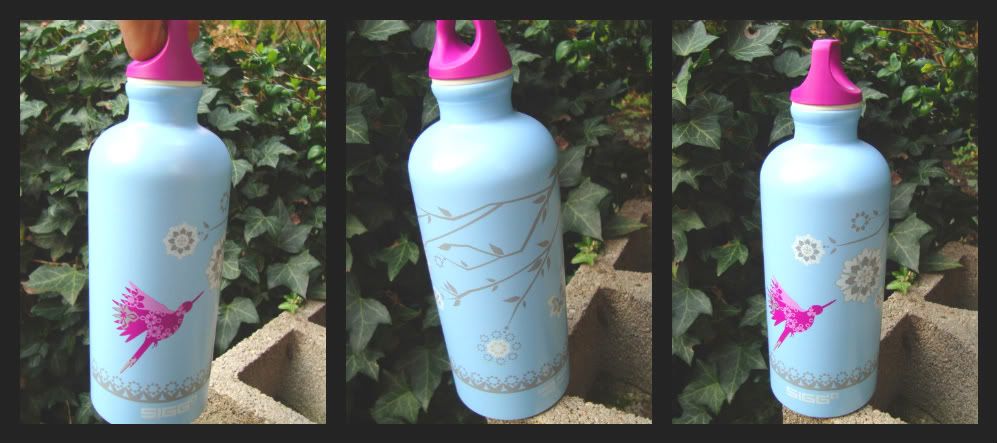 De wens naar een milieuvriendelijke waterflesje ontstond vorig jaar na het zien van een documentaire over plastic flessen. Hierin werd namelijk uitgelegd hoe bezwarend plastic flessen zijn voor het milieu. Je weet namelijk niet hoe lang een plastic fles water in de winkel of magazijn heeft gestaan (misschien een paar jaar?). De transportkosten die gemaakt worden om al die flessen water te vervoeren is zeer belastend voor het milieu. De stoffen van de plastic kunnen in het water terechtkomen, dus dan drink je in feite plastic water. Veel mensen gooien het flesje na gebruik weg en ook dit is weer belastend voor het milieu want tja niet iedereen gooit het flesje netjes weg in een afvalbak speciaal voor plastic. Sommige mensen hergebruiken het flesje maar dit is weer onhygiënisch want hierdoor wordt het flesje een broedplaats voor bacteriën.
Door al de bovenstaande beweegredenen besloot ik op zoek te gaan naar een milieuvriendelijke herbruikbare fles. Al snel vond ik de flessen van het merk Sigg, dit zijn flessen gemaakt van aluminium dus herbruikbaar (lees afspoelbaar ook vaatwasmachinebestendig!) Maar dat is niet het enige nee, nee want de flessen hebben ook nog hele leuke prints. De flessen houden dranken niet koud of warm als je koud water in de fles schenkt blijft het wel even koud. Zie hier een selectie van een enkele leuke prints (is maar een selectie er zijn er veel meer!). Er zijn ook effen metallic-achtige kleuren.